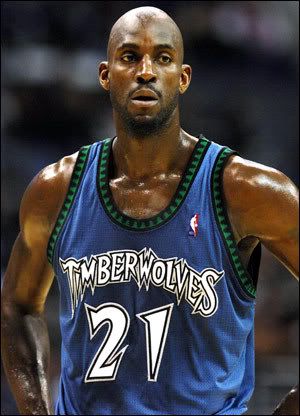 Word on the street (internet) is that the Minnesota Timberwolves and Boston Celtics are near a deal that would bring Kevin Garnett to New England.
SI.com
is reporting that the deal would send Garnett to the Celtics in exchange for promising young forward Al Jefferson, third-year swingman Gerald Green, Theo Ratliff and a number 1 draft pick. C's forward Ryan Gomes and guard Sebastian Telfair are also rumored to be included to match with Garnett's massive salary (He's owed $22 million next year).
Of course, the deal is contingent on Garnett not only agreeing to sign a contract extension (KG can opt out of his deal next summer), but him backing off of his desire not to play in Boston, which he publicly declared through his agent earlier in the summer.
This trade, if it comes to fruition, is definitely the blockbuster NBA fans have been waiting on. One of the greatest franchises in sports history (Celtics) possibly recovers from an embarrassing downspin since its last title (1986) to return to elite status by picking up a definite superstar and future Hall of Famer in Garnett.
Minnesota, on the other hand, can finally stop lying to its fans about trying to compete for anything other than the first pick in the draft and can start rebuilding. They'll also have some nice pieces to start with. This trade needs to happen like, yesterday.
But, of course, no NBA trade is ever perfect. Usually one team usually gets screwed over in an effort to (A. unload salaries; (B. appease to impatient; or (C. prove their incompetence. And most times it's option C. We'll do a breakdown of the rumored trade for both teams, starting with Boston.
WHY THIS TRADE WILL WORK:1
. The Eastern Conference. I'm sure every player and every GM in the league watched and salivated at the mouth as the Cleveland Cavaliers made their way through the downtrodden East last spring. The prevailing thought after the season ended was: The formula for getting to the Finals in the East was to ride a superstar through the playoffs. With the addition of Ray Allen and possibly Garnett along with Paul Pierce, the Celtics now have three stars.
2
. Less pressure. KG never was at his best as a player more than when he had All-Star talent around him to help alleviate the pressure. In 2004, The Big Ticket captured his first MVP and the Wolves made it to the Western Conference Finals - with Sam Cassell and Latrell Sprewell helping to carry the load. And last I checked, Garnett, Pierce, Allen > Garnett, Sprewell, Cassell.
3
. Defined direction. For the last 3 seasons, GM Danny Ainge has collected more young talent than pretty much any other team in the league. But with veteran Pierce still the man on the team, the C's have been left with no direction (or too many directions, whatever). Do they keep the ball in Pierce's hands and continue to build around him? Do they ship Pierce sometime in the near future and make Jefferson the focal point? Do they keep the rock in second-year pg Rajon Rondo's hands and go run-and-gun? With Garnett in the fold and Jefferson in the Northwest, the direction is clear: the Celtics are a veteran club ready to win now.
But...
WHY THIS TRADE WON'T WORK:1
. Supporting cast. Or lack thereof. After the proposed trade, the Celtics will be left with a starting lineup of Rondo, Allen, Pierce, Garnett, Perkins (damn that's nasty), but pretty much nothing else. They traded away Delonte West and Wally Sczerbiak along with the 5th pick (which turned to be Jeff Green) for Allen and a second round pick (Glen "Big Baby" Davis). They also got USC guard Gabe Pruitt in the draft. Fourth-year guard Tony Allen is coming off major knee surgery; the team cut '06 second-rounder Allan Ray (probably out of confusion with Ray Allen); and their's role players Leon Powe and Brian Scalabrine. Not exactly a championship-caliber roster. But, this is the East.
2
. Doc Rivers is still the coach. Enough said.
3
. This trade doesn't leave open many options for future if the team doesn't start off well next year, or if Rondo doesn't develop quick enough as the floor general the Celtics have been desperately clamoring for. There's also the issue of the salary cap, which the team is already over, and the luxury tax hit Boston is surely going to have to face. This deal is strictly for the short-term. Speaking of which....
4
. KG can still opt out after this season, that is, unless Ainge convinces him to sign an extension before the season starts. If he can't convince Garnett, and he trades for him anyway, there will be immense pressure for the Celtics to win and win right away. Anything short of the conference finals might cause Kevin to belt out of Beantown. And that would be the blow that could cripple the franchise for at least another decade.
Onto Minnesota.
WHY THIS TRADE WILL WORK:1
. Let's face it. The Timberwolves weren't going anywhere anytime soon (except the lottery). Not with that roster. Not in that market. Not with Kevin McHale running the team. KG was Minnesota's only asset to improve, and he's not exactly a spring chicken. It's been time to start over. And plus, if KG would have opted out next summer without the Wolves getting anything in return, the city of Minnesota would have re-enacted the death of Sonny Corleone with McHale at the nearest tollbooth.
2
. Al Jefferson is a bonafide future All-Star and Gerald Green has potential to blossom into a special player. Not only will Minnesota be starting over and moving on, they'll be doing it with a good core of young players. Don't forget about '06 first round pick Randy Foye and '07 pick Corey Brewer. And hey, maybe Telfair will finally develop into a real NBA point guard. Maybe not. Let's move on.
WHY THIS TRADE WON'T WORK:1
. Because no one in Minnesota is going to be able to stomach you TRADING F*CKING KEVIN GARNETT, ESPECIALLY BECAUSE THE TEAM IS SO BAD BECAUSE YOU, KEVIN MCHALE, YOU COULDN'T GET GOOD ENOUGH PLAYERS AROUND HIM TO COMPETE FOR A F*CKING CHAMPIONSHIP!! Sorry about that. I'm calm.
2
. The Wolves would be severly lacking in veteran leadership. Is Foye going to step up and lead? Will Jefferson make the leap to the next level? Will Juwan Howard finally become the dominant forward we've been waiting for since his days at Michigan? Well, maybe no one's thinking the last one.
On the outset, it looks like a good trade for both teams, a rarity considering 89% of GMs in the NBA are completely inept at making even decent decisions. As always, time will tell.
One hunned...