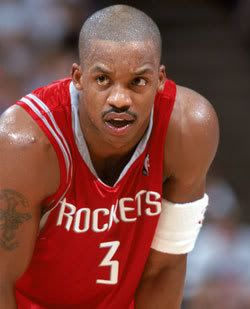 In 1999, back when I was a freshman in high school, the city of Houston was on fire. The Astros were a playoff squad, the music scene was led by the legendary Screwed Up Click, and my favorite (old) team was reinvigorated by the arrival of rookie point guard Steve Francis, a high-flying, explosive powerball out of Maryland.
The Rockets landed Francis after he was drafted number two overall by the Vancouver Grizzlies in the '99 Draft and publicly showed his disdain for playing for the Grizz (who already had taken point guard Mike Bibby the year before). I couldn't believe our good fortune after we got "Stevie Wonder" in the huge record-breaking (at the time) three-team, 11-player deal. Good times all around.
The Rockets, at the time, were somewhat of a stone-age group of old All-Stars and veterans, led by former MVPs Hakeem Olajuwon and Charles Barkley. They had just beaten by the Lakers in the first round in five games. It didn't look pretty for Houston's future.
In came Francis. He was more than your average rookie. He went at dudes every game. He almost out-trashtalked Gary Payton in his trashtalking prime. He tried to dunk on anybody and everybody every game. He became the city's answer to Allen Iverson. And this was just the
preseason.
Francis was
that
guy
in Houston. He almost single-handedly made the 1999-2000 season for me. Classic dunks, crossovers, big games against big players, he was everything for Houston. Of course, "Wink" (along with teammate Cuttino Mobley) and his new-school style clashed with Hakeem and Charles' old-school slow-it-down trademark style, but we didn't care. Especially since we as young people favored the run-and-gun Rockets anyway. The 2000 Rockets only won 35 games, but we didn't care. We were too busy rooting for Steve to upset Vince Carter in the Slam Dunk Contest, which was like betting on Kelly Rowland to sell more records than Beyonce. The Dream and Sir Charles were are their last leg (literally for Barkley, if you remember him tearing up his knee in Philly), but we didn't care. We had the new "Franchise", and the city suddenly was ready for the old guard to move on.
Francis never seemed to disappoint, unless the subject was getting to the playoffs. He made the All-Star game twice, put up great stats, showered
Sportscenter
with countless highlights, appeared in a Reebok commercial with the legendary Scarface, and his name even showed up in a Jay-Z line ("I'm the franchise like a Houston Rocket"). When Jigga shouts you out, you my friend are big time.
But his alleged selfishness and immaturity wore on not only the team, but fans alike. After five years with the Rockets and only one playoff appearance (2004 vs. the Lakers; loss 4-1). Francis had butted heads with new coach Jeff Van Gundy all season long, with things coming to a head when Francis skipped a team flight to attend the Super Bowl at Reliant Stadium. The time had finally arrived; it was *sighs* time for Stevie to leave.
Three years since his departure - with brief stops in Orlando, New York, and Portland - "Stevie Franchise" has returned home. This time around, however, he's no longer the franchise player he was expected to be when he was traded to Houston. Hell, he stopped being the franchise player when Yao Ming was drafted number 1 overall in 2002.
Now he's presumably the number 3 (look at the irony) option behind Tracy McGrady (who he was traded for) and Yao. He's no longer the uber-athletic guard bouncing off defenders in mid-air, or the guy expected to lead the Rockets back to the promised land (or at least to the second round). He signed a one-year deal with the option for two. We already drafted pg Aaron Brooks with in the first round (26th overall) of this year's draft. So if it doesn't work out with Francis this year, he may be gone. Again.
But, at least he's back. He still will be able to defend the likes of Steve Nash, Tony Parker, Jason Kidd, Deron Williams, Baron Davis, and Chris Paul. He'll still possesses the uncanny ability to penetrate the lane and create at will. He'll inject the team with some much needed fire ('cause Lord knows we lacked that before his re-arrival). And the bottom line is, like Ne-Yo and Fab, Steve Francis makes us better.
Does it feel like '99 again?